The Italian Renaissance
Contemporary Events

Starting about mid-14th Century sculptors, painters, and writers residing in Italy find inspiration with the ancient Greek & Roman civilizations–a "rebirth" of classical arts and learning. Petrarch, Niccolo Machiavelli, Thomas More, Leonardo Da Vinci, Donatello, Raphael, Michelangelo, Sandro Botticelli, etc.
During the 14th & 15th Centuries this Renaissance was largely confined to Italy, however the increase of trade and commerce among the various European kingdoms of the day spread Italian ideas. Eventually Kings and other wealthy nobles begin to "import" Italian artisans and scholars to their courts. Renaissance ideas trickle into Europe.
1439Johann Gutenberg invents moveable type, allowing texts to now be printed rather than hand lettered.
1492 Christopher Columbus "discovered" America.
1543 Nicolaus Copernicus publishes support for his theory that earth revolves around the sun, rather than vice versa.
Italian Renaissance – (15th Century Italy)
These men would be wearing camicia (Italian chemises), drawers, at least one doublet a piece, and hose with a pouch-like codpiece.
The man at the right is also wearing a huke/tabard-like variation of a jacket/jerkin. A jacket could also (and more often does) take the form of a sleeved or sleeve-less (vest-like) second doublet.
In the image below, the man at the left wears a simar-a robe/gown based on the houppelande which is worn in the same manner as an overcoat or great coat.
Both men wear unexaggerated pointed shoes, soft caps, and longer hair.
In this etching we see a variety of male styles that are quite prevalent in Italy at this time.
This includes, extremely short doublets, long hose (sometimes still parti-colored), long houppelande-inspired simars, center front lacings on the doublet that allow the camicia to show, soft caps, and long hair.
Necklines tend to favor a deep V at center front. This may be achieved by simply turning back the front into wide revers (as seen on the simar at the left) or loosely lacing the doublet allowing the edges to spread and revealing the camicia. Eventually doublets are cut in a manner that excentuates this V shape, preventing the edges from touching even if it was desired.
This portrait shows another Italian trend that is prevelant in both men's and women's wear during the Italian Renaissance.
Seams of garments are left unsewn–the edges of the fabrics generally finished off in some decorative manner–and are instead laced together. In order to exaggerate this, the garments seem to begin to shrink in size. For example, sleeves become tighter and tighter, until the edges couldn't possibly touch each other. They are then laced across the gaping opening. The camicia is allowed to puff through these openings. We see this taking place most often in sleeves and armscyes, as well as the center front or side openings of dresses and doublets.
In the 15th century Italy, this technique (called slashing and puffing) is used primarily in a functional manner. It will spread throughout the European continent becoming a decorative/non-functional technique in the next century.
Women could wear one gown/dress over a camicia OR two gowns over a camicia.
Some styles of dress were direct descendants from the houppelande. They fit somewhat smoothly through the shoulders and feature quite a bit of fullness through the body. They are frequently belted high under bust (as the houppelande was for women).
Other variations are constructed (right) by having a closely fitting bodice section seamed to a full gathered or pleated skirt. These generally closed by lacing up the front and/or the sides. Necklines tended to be lower than before with square styles becoming more common.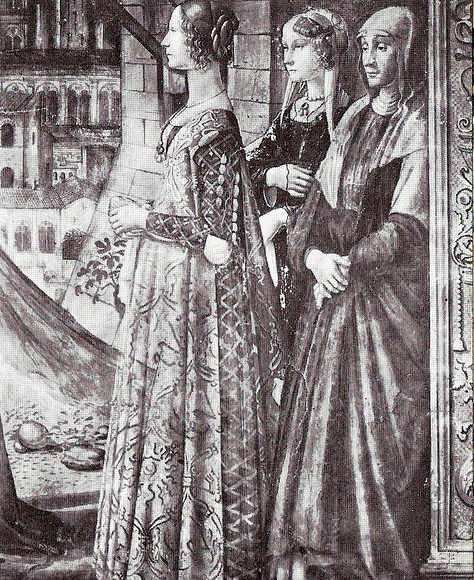 A common 2 gown variation is pictured left on the woman in the center of this painting. Overgowns were often constructed in a manner similar to the Northern European man's huke–sleeveless, seamed at the shoulders and open under the arms to display the dress underneath.
The length of this garment generally matched the length of the dress underneath.
The clothing of these Venetian women (right0show many characteristics of 15th century Italian dress, as well as those exclusive of Venice.
The extremely high waist seam is particularly Venetian. These are different than the previously discussed gowns that are merely belted under the bust. These are constructed like the second variation (bodice section with attached full skirt). The waist seam is simply placed well above the natural waist and the skirt has less fullness.
Universal 15th century Italian features include: prominent slashing and puffing, low necklines, exposed blond hair (women have the ability to bleach hair blond in order to acheive this desired, fashionable color), and an overall softness of line.
This woman wears a ferroniere-a precious metal chain or string of pearls worn laced through the hair, with a jeweled pendant that would generally rest in the center of the forehead.
QUICK REVIEW

TYPE OF DRESS: tailored with very little draping.

TEXTILES: Silk and wool with linen and some cotton used for undergarments. Slashing and puffing emerges.

SILHOUETTE SHAPE: Body revealing. Natural hourglass. Soft silhouette, rather than rigid.

BASIC GARMENTS: Men: doublets, hose, codpieces, camicia, soft caps, lots of visible lacings. Women: gowns/dresses, camicia, stockings. Houppelande variations (Simar) are still available for both genders.

MOTIVATIONS FOR DRESS: decoration and status (wealth)

KEY IDENTIFIERS: visible lacing with the white camicia "puffing" through open seams. Early slashing and puffing functional as clothing becomes very tight and the "open" seams allow for movement. Very short doublets on men exposing hose for full length. Longer, flowing hair on men. Single doublets worn rather than layers–deep necklines in front of doublets could expose much of the camicia. Visible hair on the ladies with small hair dressings.